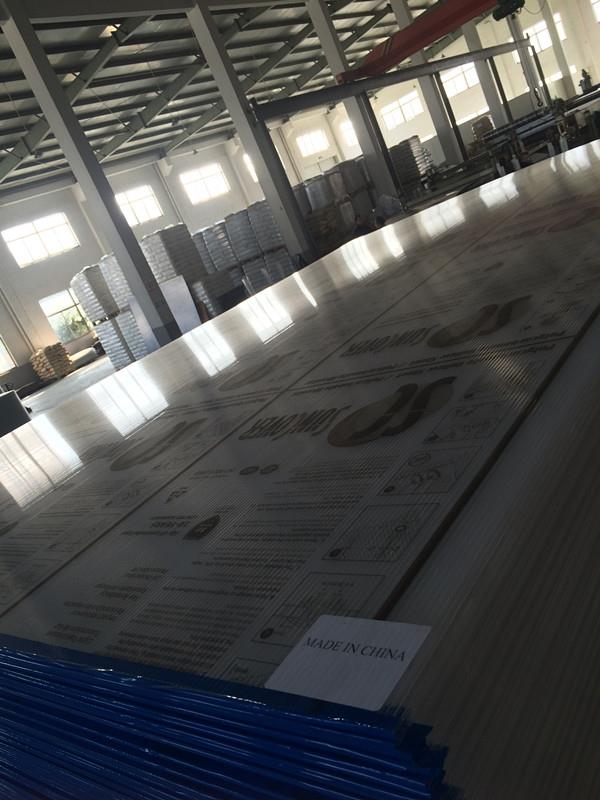 Add to Favorites
Share
4mm PC Sheet Clear And Colored Sheet
Payment

Origin

China Mainland

Minimum Order

1

Packing

Pieces
Product Detail



Specifications




PC raw material sheet
1) Thickness: 4-30mm
2) Width: 2,100mm
3) Length: no limit.
4) Colors: clear, lake blue etc




Features of PC raw material sheet


1) Good light transmission: Reaches 12%- 88% depend on color and thickness.
2) Impact resistance: 250-300 times that of ordinary glass and 20-30 times that of acrylic sheeting
3) Weather resistance: -40oC ~+120oC
4) Flame resistance: Rated class B1
5) Light weight and easy installation: 1/2 of glass of the same thickness
6) Ultraviolet resistance: With UV protective layer
7) Sound and heat proof
8) Fine plasticity, either cold bending or hot bending

Applications of PC raw material sheet


1) Unusual decorations, corridors and pavilions in gardens and recreational and rest places;
2) Interior and exterior decorations of commercial buildings, and curtain walls of the modern urban buildings;
3) The transparent containers, front wind shields of motorcycles, airplanes, trains, ships, vehicles, motor boats, sub marines;
4) Telephone booths, street name plates and sign boards;
5) Instrument and war industries - windscreens, army shields
6) Walls, roofs, windows, screens and other high quality indoor decoration materials;
7) Sound insulation shields on express ways and city overhead highways;

8) Agriculture greenhouses and sheds

polycarbonat sheet, pc sheet, lexan pc sheet, pc hollow sheet, lexan, polycarbonate roofing, polycarbonate roof sheet, plastic sheet, polycarbonate hollow sheet, lexan sheet, pc sunshine sheet, polycarbonate sunshine sheet, sheet of polycarbonate, polycarbonate sheet price, skylite roofing, pc solid sheet, pc embossed sheet, pc profile




Packaging Details:

polycarbonate sheet: both sides PE film , also customized design PE film is welcome.
4
YRS
Haining Chiancess Plastic Co.,Ltd
China
Favorites